JIngeri.. Hello..
Who are the yugambeh Language people?
The Yugambeh language people are the traditional custodians of the land located in south-east Queensland and north-east New South Wales, now within the Logan City, Gold Coast, Scenic Rim, and Tweed City regions whose ancestors all spoke one or more dialects of the Yugambeh Language.
What do we do?
The Yugambeh Museum, Language and Heritage Research Centre aims to record and promote the traditional knowledge of our region, especially the Yugambeh language which was spoken throughout South East Queensland.

We work with and bring the community together through many initiatives centred around cultural and educational exchange, so that future generations have the opportunity to embrace our language, hear our stories and truly connect with their Indigenous legacy as a relevant part of their today and tomorrow.

Beyond our home of the Gold Coast and Scenic Rim, we also work as 'one mob' and collaborate with other communities throughout the State, to assist with the preservation and revitalisation of their own languages and traditions to ensure their ongoing inclusion in today's cultural landscape.
Our Inspiration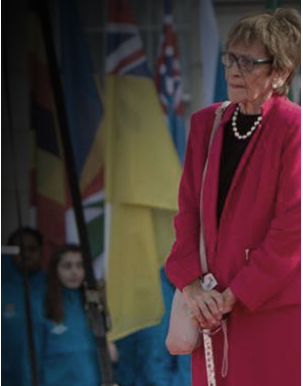 Yugambeh Elder and Museum Co- Founder.
The Yugambeh Museum is poised to launch an immersion program to create the first cohort of fluent Yugambeh language speakers the region has seen in 50 years
Wangerriburra Ancestor. A "Keeper of Language"
in 1913 Bullumm helped compile a grammar vocabulary and notes on the Wangeerriburra Tribe.
Yugambeh Warrior. "A different kind of warrior"
Bilin Bilin employed diplomatic rather than confrontational methods to enable his people to remain on their Traditional land during extremely difficult times.
queensland greats award presented to patricia o'connor
Borobi is back and super proud to be a champion for indigenous languages!
looking for some yugambeh language resources?
Be a part of the revival of the Yugambeh Aboriginal Language and culture. Check out the LANGUAGE RESOURCES page along with our SHOP for some resources to assist you to learn all about Yugambeh culture and Language.